Destin is popular as the 'World's Luckiest Fishing Village'. Fishing enthusiasts will never feel let down when they go for a deep-sea fishing journey. It is an ideal spot for anglers because of many reasons, and they are as follows:
Geographical positioning – Blessed with the emerald green waters on the surface and unique underwater topography Destin has a magical touch. The coastline of Mexican Gulf has shallow waters, and just 12 miles away there is access to the deepest water. Fishermen can gain access to different kinds of fish surviving at different depths. If deep-sea fishing is not your style, then there are near-shore and inshore opportunities as well!
Rich history – Destin was discovered by fisherman, Captain Leonard Destin in 1835, so the name. At that time, fishing was done from the shores using nets as there were no rods & reels or powerboats, or ice for the preservation of the catch. Times were rough, but fishermen survived, and as decades passed fishing techniques improved.
Fish varieties – Inshore shallow waters have Redfish or Red Drum in abundance throughout the year. Tarpon or the Silver King beauties are found in summer. Red snapper and Groupers are mostly found near-shore reefs and Gulf's deep waters. Cobia and Billfish is a offshore catch trophy.
Different niche fishing opportunities – There are multiple fishing opportunities in Destin as the entire village economy is based on fishing. Pier fishing, surf fishing, kayak fishing, deep-sea fishing, and charter fishing are the different types of opportunities available. These entire niche fishing opportunities can be experienced by tourists in Destin.
Incredible fishing spots – There are multiple fishing spots and some of the best hunting grounds include the Okaloosa Island Pier, Navarre Beach Pier, East Pass Jetties, 100-Fathom Curve, The Edge, etc.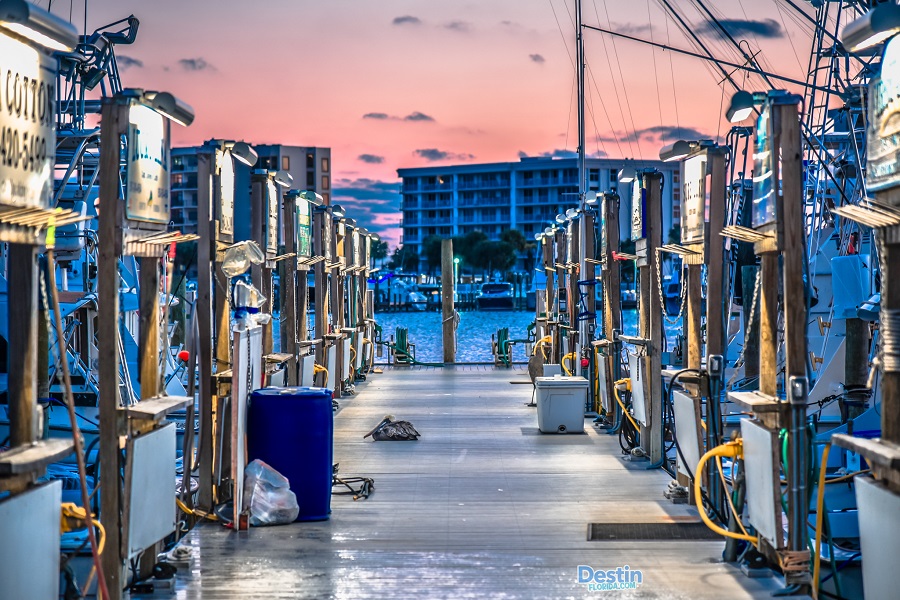 Best time to visit Destin
The peak season is summer and tourists take advantage of blistering sunshine and fishing. The biggest varieties of fishes are caught, but make sure to book your accommodation as soon as possible to avoid last minute disappointment! DestinFlorida is a website that offers information about the different kinds of condos and beach homes.
Adventurous people can spice up their vacation by booking deep seawater fishing expeditions or sailing adventures. You can find the list of activities by location on the DestinFlorida website. It is a platform that offers all kinds of information and details of upcoming events in Destin Florida.
If you desire to avoid crowds then choose spring and fall. Beware of the hurricane season that usually occurs anywhere around June to November.
Fishing Tournaments all around the year
Destin fishing tournaments are also quite popular. They are legendary and people with competitive streaks can test their skills. In October, the popular Destin Fishing Rodeo is held all month. More than 30,000 anglers visit Destin and participate in different fishing competitions.
In March, April, & May there is the Marina Cobia Tournament. In November & December, compete in the Flounder Pounder Competition. In summer, it is time for the Bay Fishing Tournament and the Emerald Coast Marine Classic.
Fishing license
The regulations associated with fishing licenses differ around the world. In Destin, a fishing license from the Florida Fish & Wildlife Conservation Commission [FWC] is needed for any kind of fishing done on your own. It doesn't matter if you fish using a rental boat or at the shore. A license can be picked at the local sporting goods store or an app.
Foreign tourists will need to pay $17 for a 3-day fishing license. If you plan to book a charter rather than going on your own, then the fishing license is covered under the captain's license. Your license also is covered at the fishing pier the moment you pay the entrance fee. Every angler between 16 to 65 years of age will need a fishing license to fish from their own boat or the shore.
How to plan an unforgettable deep sea fishing trip in Destin?
Budget – Consider budget because this will define the number of people, trip length, and boat size to rent. Even remember to add the travel cost and fishing gear.
Boat options – If the group is large, then cost can be divided to hire a private charter. If you feel comfortable fishing with strangers then you can opt for a shared charter for small or solo fishing trips. For optimum privacy, a small group can go for a private charter, which can be a little expensive.
Length of time you desire to fish – It also defines the kind of boat you will need. The longer you wish to stay out in the sea, the bigger the boat you will need. For beginners or those traveling with kids or busy people, short trips of 4 to 6 hours are fine.
Those who desire to loosen up their deep-sea fishing skills can choose the 3 or 4-day trips. Day trips are available, where you leave early at dawn and return late in the night. It is around 13 to 16 hours in seawater. Day trips are a great option for seasoned deep-sea fishermen waiting to experience offshore trolling or bottom fishing.
The fish type you desire to catch – Fish type will determine the trip timing as well as the spot to go fishing. Red Snapper is found around June and July, so you cannot look for it in January. If you don't have any specific fish type to catch then you get lots of flexibility in choosing the trip schedule.
What to carry – You will need appropriate clothes. If you are heading out in summer then you will not need a warm windbreaker. Every time you go on a boat for fishing, remember to carry your sunscreen. You will need proper gear and tools. The standard rod & reel is not sufficient to handle a big fish. You will need proper tackles, saltwater rods, and a fighting belt. The charter boat does supply required fishing bait and gear.
After a successful day in the sea, your catch gets cleaned on the charter and you can enjoy it for a lunch or dinner. For years, you can treasure and share memorable stories of the deep sea fishing adventure in Destin with your friends and family members.